| | |
| --- | --- |
| Online Edition • Tue. Jan 18. 2022 | |
Dime Magazine cover



Tue. Sep 8. 2009

For the last three summers we've shot something NBA related; three years ago it was the Knicks coach for the New York TImes, last year Carlos Boozer for Mens Fitness, and this year Kevin Durant for Dime. Because the NBA Summer League Games are hosted by UNLV and also as team USA Team holds practice here at one of Vegas' local high schools, Vegas just needs some pro balling......

One of the things we love most about our job is working with so many different kinds of people; one day we're shooting a cover for a major mag and the next we're shooting an awesome bride and groom getting ready to tie the knot.

One of the things that really distinguishes photographers in what we do is experience. When it comes to commercial work, prior assignments really contribute to our expertise. About 90% of the time, we have about 10 minutes to pull off an image and produce a cover image that will not only knock the socks off our clients, but will also capture the attention of the viewer.

Shooting Kevin Durant was entirely different for us; luckily we had an hour to pull off three different looks and although he was a little tired from an all day practice with Team USA followed by a commercial shoot with Nike to promote his new shoes, he was still uber cool and more than kind as he worked with us to create the September cover of Dime Magazine. Despite having such a long exhausting day, Kevin brought his A game and intensity to the look of the photos...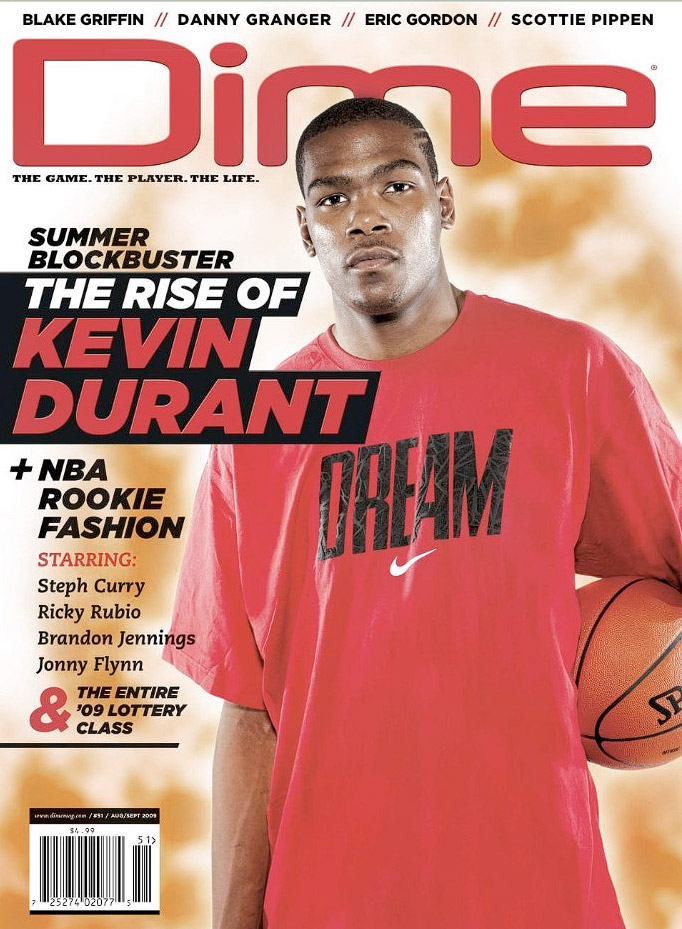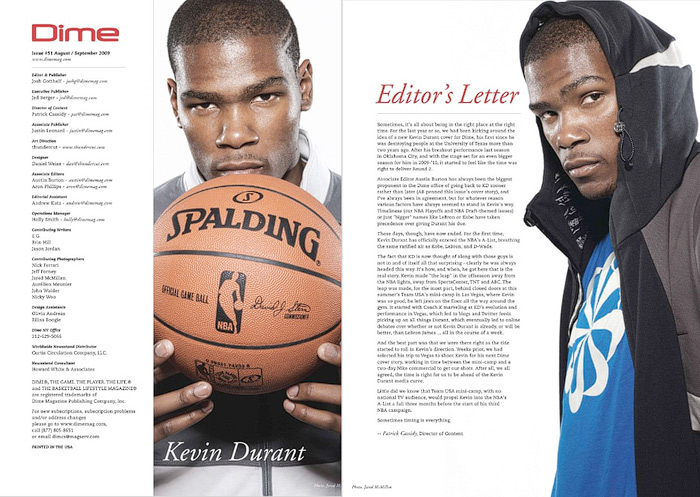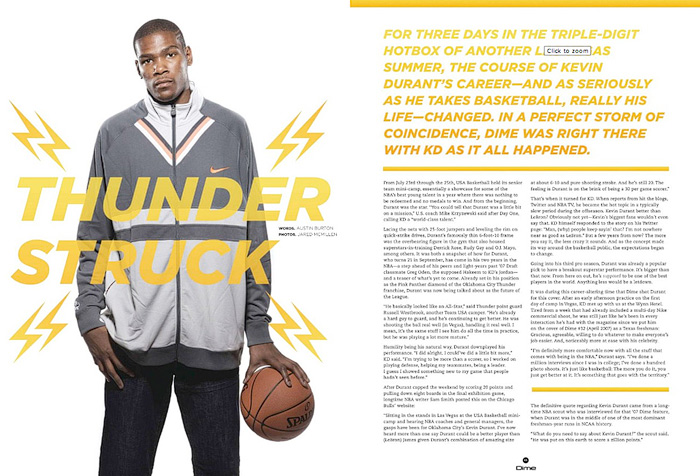 and a little behind the scenes......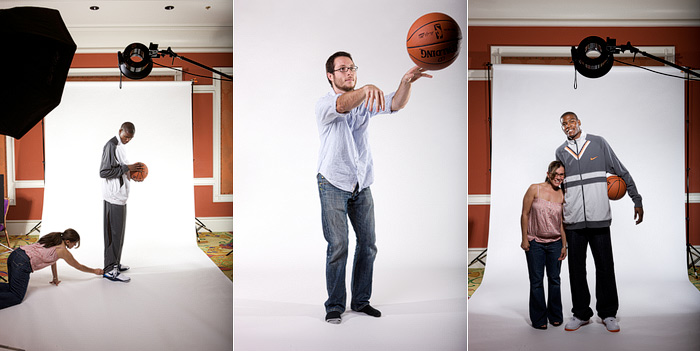 More Pushing



Wed. Aug 12. 2009

Y
ou might remember this
POST
from a while back, we had these rockers in the studio to do a bunch of promotional shots for them. The goal for the shoot was to create images that we could composite together with other backgrounds and create a surreal look and effect. Finally after months of putting it off due to the fact that this kind of work involves hours on the computer and the fact we have been swamped with the new studio, I decided to tackle a couple of the images from the shoot. This is the first of two, the other is still a work in process and will take a lot more starring at the ole computer to finish. Hope you enjoy, looks pinner on the blog, this is the kind of image you need to see huge to really get the full effect......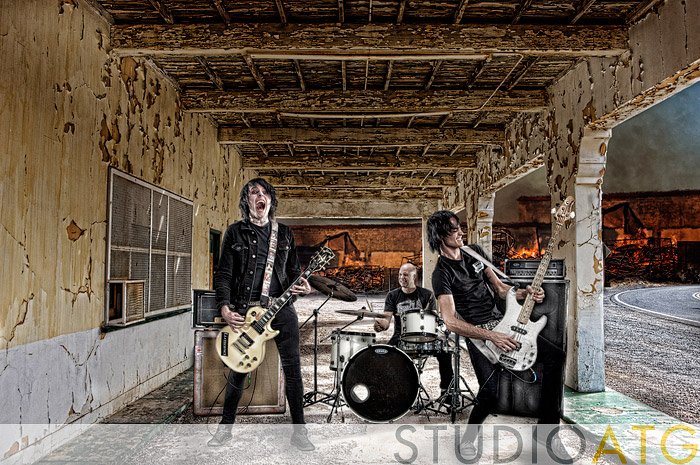 Little UFC Action....



Fri. Jul 31. 2009

Things have been crazy, studio is almost finished up and we'll be ready to launch the new face of STUDiO ATG in a couple days., big news coming. This time of year our weddings and engagement session slow a bit due to the crazy hot weather but that doesn't mean we're not out shooting, below is a very recent spread that we shot for a UK publication of Mike Bisping who had a bout in the UFC 100, we really like the way it came out.....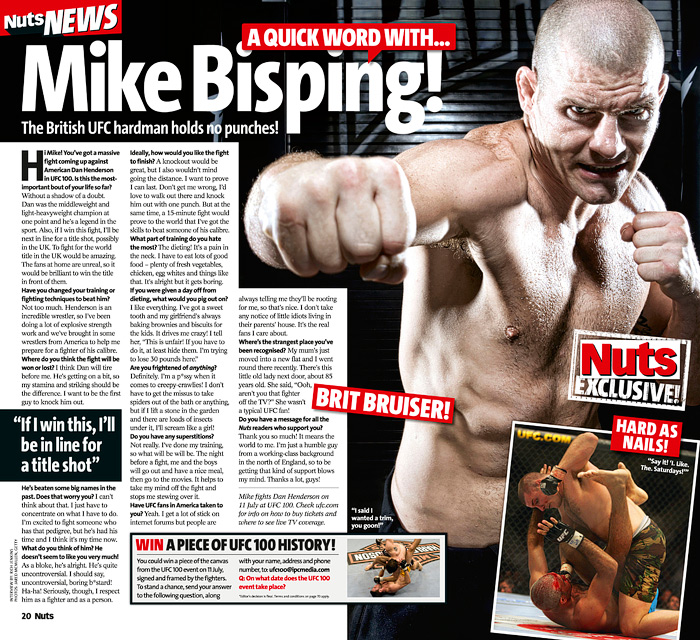 Small VS. TALL.......



Fri. Jul 24. 2009

One of my favorite people to shoot is Trish, no matter who we are shooting for or where we are shooting I always manage to get in a couple pics of her doing her thing, and this one I could not pass up. I cut off the head of the player because (A) it still shows how tall he is and (b) because we can't let the cat out of the bag just yet, anyway I love the pic of Trish. The caption reads: SMALL BUT MIGHTY............ On an average day we receive well over a 1000 visits to the blog so bring on your comments all you folks who never leave a word, comments rule.....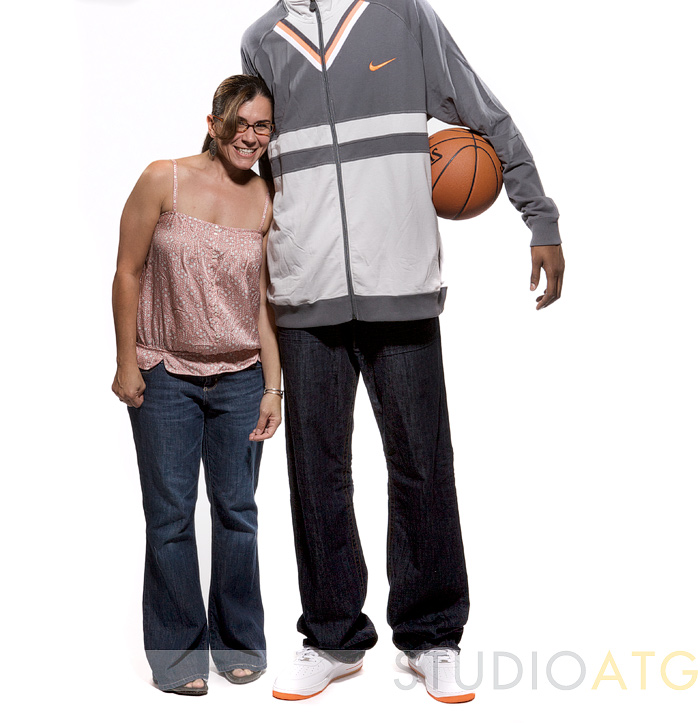 Face to Face



Thu. Jul 2. 2009

Before we left on vacation we had to pass up on a really cool assignment, RV was already rented and we were both in need of a break; however, we were bummed. When we got back from vacation we learned the shoot was moved back and the client wanted to know if we could still shoot it, couple high fives later the shoot date was booked. More details will flow over the next week so stay tuned, and if the day couldn't get any better we received a phone call while setting up to shoot another killer assignment. Today was a good day.

For todays shoot we all needed a quick workout to get ready and here is Trish and Jason.......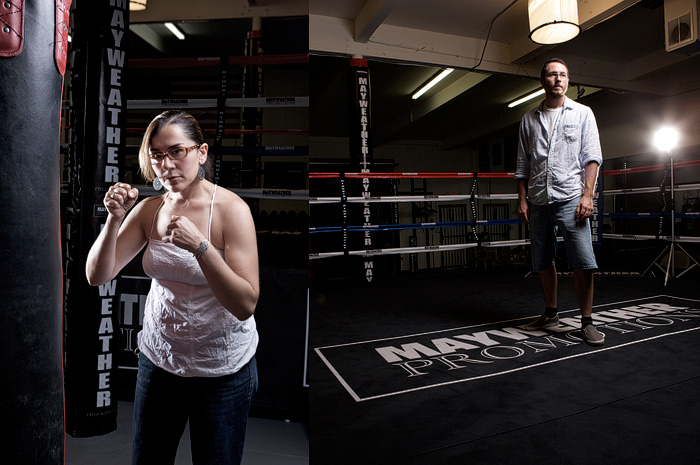 Lydia Vance, part II



Sat. Jun 6. 2009

Thought you all might enjoy a couple more from our shoot with Lydia Vance...... This coming week will be an explosion of blog posts before we head out of town next weekend. Brace yourself for loads of stuff that will be making your jaw hit the floor..... Good stuff, one day shooting stunning brides the next shooting hard core ROCKERS, loving it.......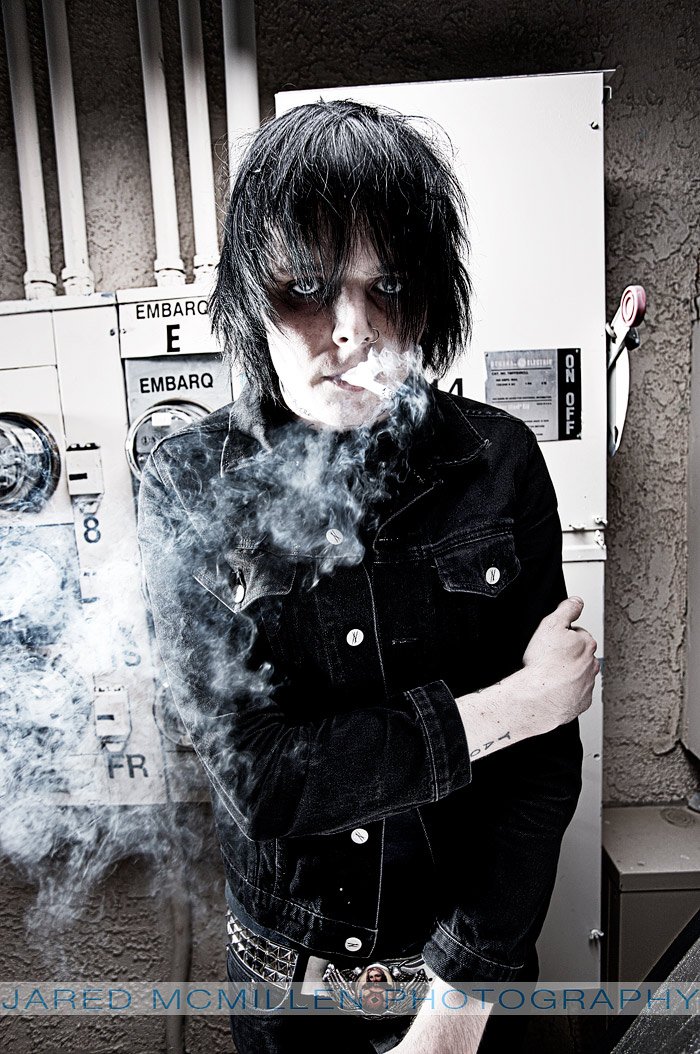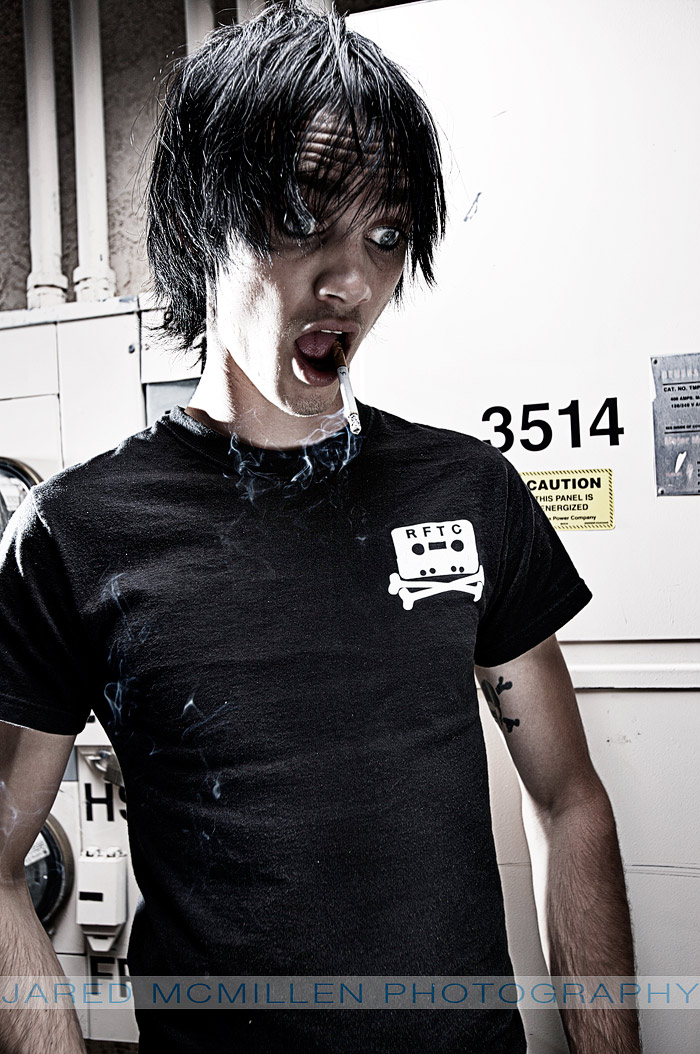 Meet the talented, Lydia Vance



Fri. Jun 5. 2009

This week has been filled with late night shoots, Monday night was spent at the Four Seasons shooting one of their fine dining restaurants, and last night we had a late night session in the studio with rockers Lydia Vance. The next 7 days are packed with sessions, weddings, engagement sessions, bridal sessions, and family session, so lots of blog love heading this way. Until then we give you a quick peek at Lydia Vance, more to come........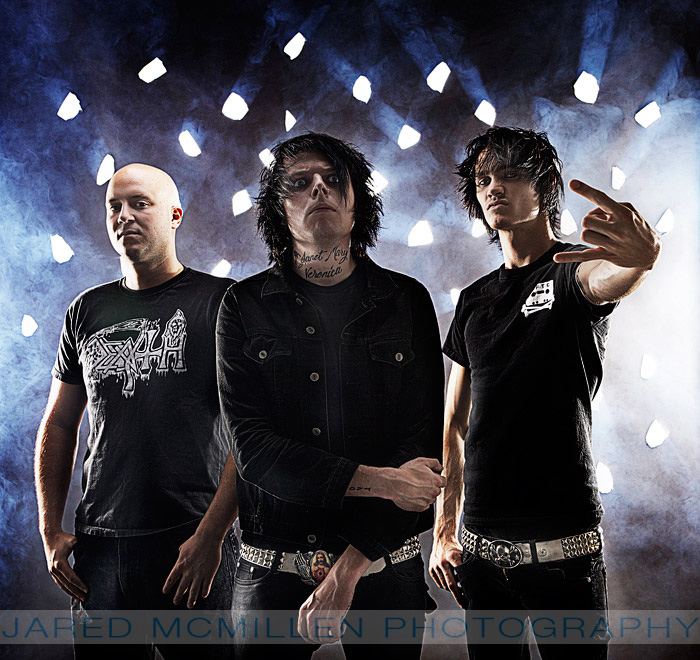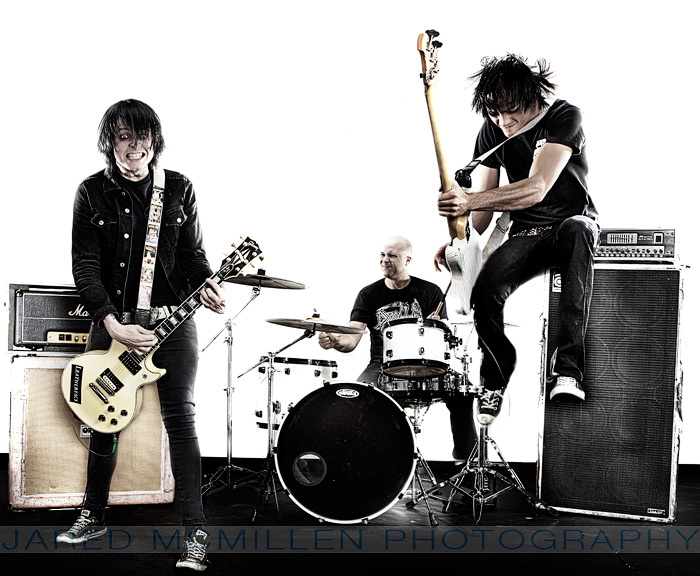 Couple more of the Racer



Tue. May 12. 2009

As promised a couple more from our cover shoot with INDY driver Danica Patrick. Assignments like this pretty much all start the same, gather all info on talent, talk look and ideas with creative, work out location, nail down call times, everything was in place for a perfect 3 hour shoot in a studio in Phoenix. When we arrived on location we jumped right in and began setting up our lighting, we were to shoot 3 changes of clothing and 6 different looks, no problem we had 3 hours. Well our three hours turned into a rushed 30 minutes of shooting due to the fact the make-up was a no show, creative had to call in a last minute make-up artist to finish the job, needless to say at that point "F" bombs were tossed around the set....... Trish looked at creative and said no worries we'll have plenty of time, I looked and Trish and gulped, so in a last ditch effort we changed a bunch of the lighting around in order to be able to shoot one look with two different lighting set-ups quickly. Long and short we managed to get everything shot and also had 2 minutes to do a couple of our set-ups........

Kicking it off with a couple behind the scenes.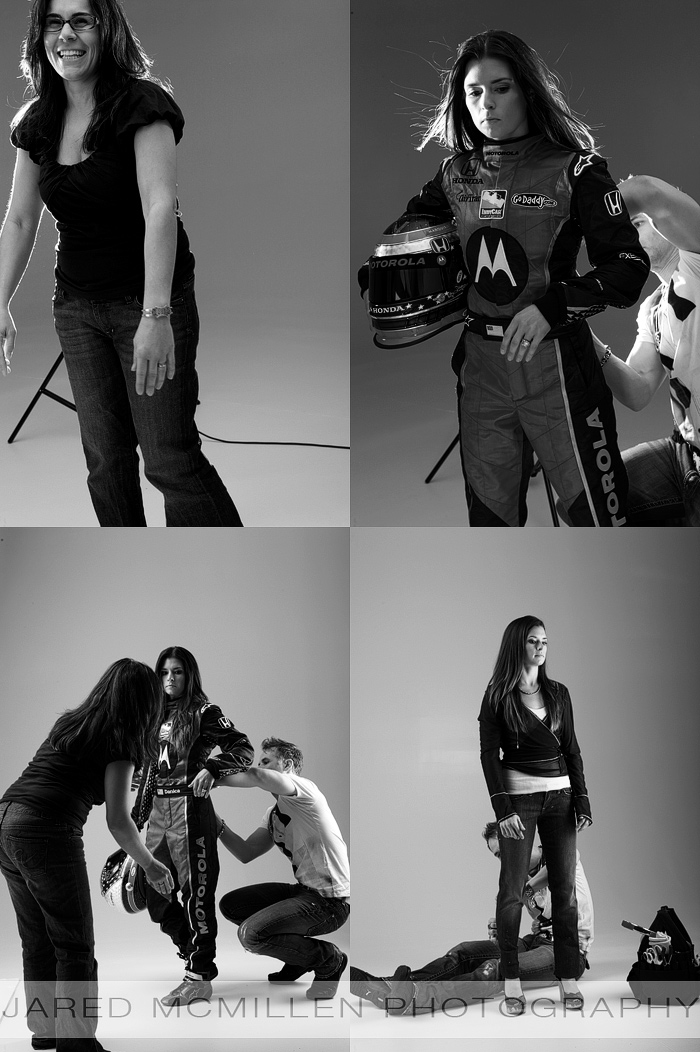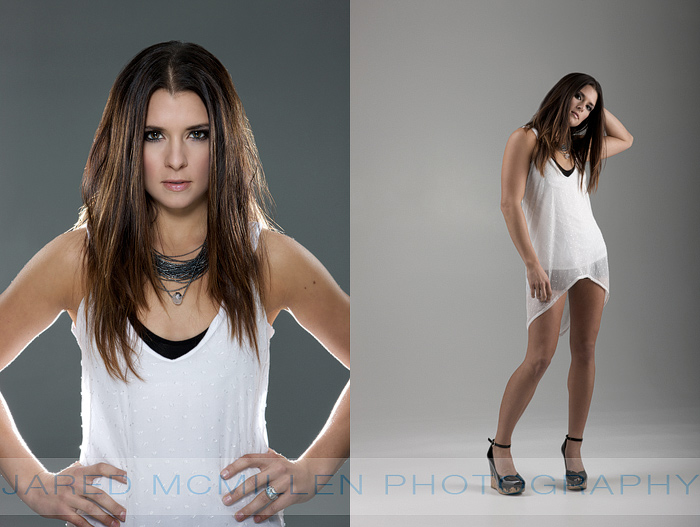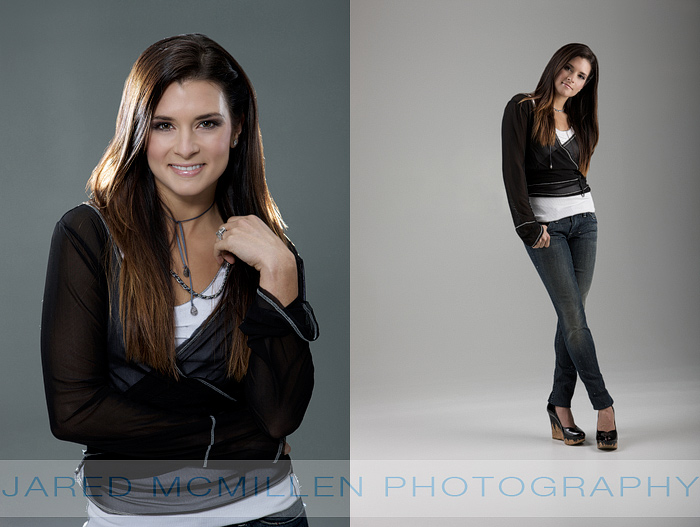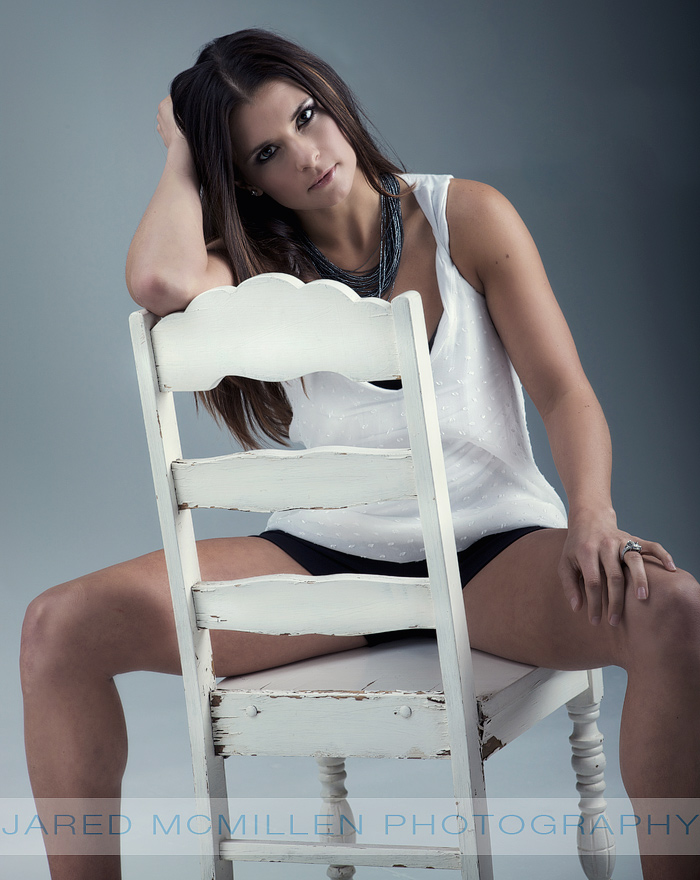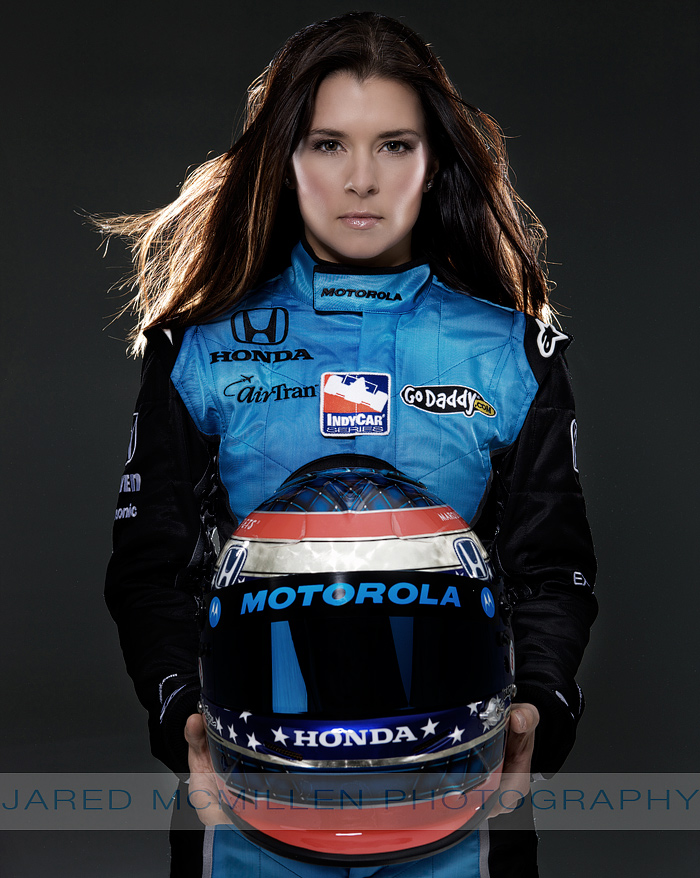 W
e've been so busy posting weddings and engagement sessions that we thought you all might enjoy a change of pace. We've seen a bunch of the Las Vegas Shows, some are better then others, some are worth seeing more then once, and some will rock your world. Love is one of those shows that you could see a couple times and still miss something, awhile back we were lucky enough to photography the show for one of our clients and we just posted a gallery of images. Jump over
HERE
to check them out, enjoy......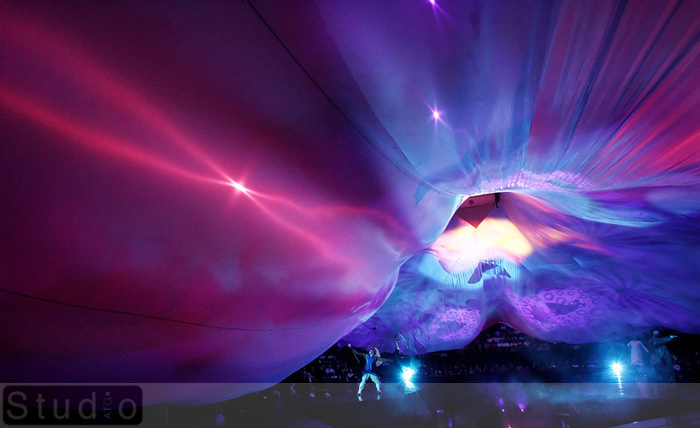 Danica Patrick, cover shoot



Thu. Apr 30. 2009

S
ome might remember awhile back we did a shoot with Indy Racer Danica Patrick down in Phoenix, well the issue was just released and we thought you all would enjoy checking out the cover and a couple of the spreads. We'll post more of a follow up to the shoot down the road, until then jump on over
HERE
.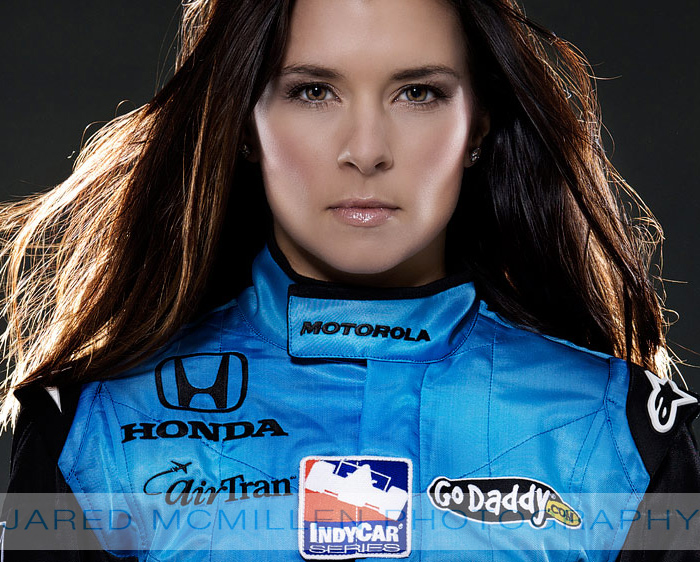 What are we doing?





Fine Art





Breaking News

Jared & Trish shoot two features for Vegas Magazine, Oct issue, on stand now.

Trish & Jared McMillen introduce the world to The Mothership, a new and fresh rental studio in the heart of Las Vegas, www.themothershiplv.com

Jared and Trish shoot a feature for Cigar Aficionado

Trish wins best of award for a political portrait she created of a local politician.

Jared and Trish McMillen shoot Lanny MigLizzi of John Force Racing for ESPN.

Jared and Trish McMillen shoot Mike Tyson for Time Magazine.

Jared McMillen Photography and Studio ATG shot national Ad for the Las Vegas Convention and Visitors Authority, Jan. 2011

JMP and Studio ATG shot Mike Tyson for the Wall Street Journal, Feb 2011.

Studio ATG on FOX 5 MORE Show

Studio ATG named Super Stars by Bridal Spectacular

Studio ATG on the cover of Bridal Spectacular Magazine

The Black Chicken is born, www.theblackchicken.com

Studio ATG introduces ECO friendly wedding album

Studio ATG Introduces Wedding Films

Studio ATG doubles the size of their studio

WINNERS OF THE KNOT BEST OF WEDDING PHOTOGRAPHERS 2008/2009






Copyright

PLEASE NOTE:
All images are copyrighted under law, do not steal our work it is a bad bad thing, if you want to license an image contact us directly.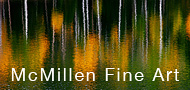 ©2022 Studio ATG, all rights reserved.
blog by infinet design